We create & host
FlexMeasures
, the intelligent & open EMS which helps to steer flexible assets ― first in simulations, then live from the cloud.
Our customers go green in daily operations and stay in control. Pick or combine the goals that fit your case:
SteerOnPrice
Shift process start times to get lower energy prices, or even sell energy in expensive times (e.g. for batteries).
SteerOnCO₂
Optimize your process schedules to reduce emissions (the CO₂ content of the consumed electricity).
SteerOnPeaks
Consumption peaks can be expensive. Balancing supply and demand helps you lower peaks.
SteerOnSolar
Shift your processes to maximize how much of your local energy production you consume yourself.
Features
What to expect from our smart EMS.
| SteerOn | Price | CO₂ | Peaks | Solar |
| --- | --- | --- | --- | --- |
| | Ideal for dynamic tariffs. | Perfect for ESG goals. | Perfect for business parks. | The best fit for rooftop solar. |
| Scheduling | | | | |
| Forecasting | - | - | | |
| Monitoring | | - | | - |
| CO₂ reporting | - | | - | |
| Costs reporting | | - | | |
| Usage reporting | | | | |
Working with us
We aim to be your empowering expert tech partner, along your energy flexibility journey.

Simulate (optional): We conduct several What-if scenarios for you with FlexMeasures as Digital Twin.
Pilot: We connect your relevant data sources to our FlexMeasures optimization.
Operation: Continuously receive forecasts and schedules to steer your flexible assets!
Hand-over (optional): Ready to run this in-house, as your own service? Sure – it's open source. We can also train your staff.
Built on openness
Avoid vendor lock-in and be free to extend functionality.
We truly believe that the energy transition needs open & rapid innovation.
FlexMeasures is open-source and part of the Linux Energy Foundation.
Open standards from the energy flexibility research community add maturity to our (and your) infrastructure.
Process analytics
Meter data reveals processes. Another specialty of ours.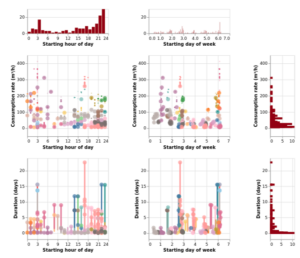 Partners
Organizations and customers we work with.
Start your journey to flexible & green operations today!
Ready to make the most from the flexible assets you (or your customers) own? Stuck in a difficult make-or-buy decision?
You can begin the data-driven journey while staying in charge!
CONTACT US