Our data and cloud strengths can combine.
See below which modules create the data-driven solution that is right for you.
Data
The data of your business. What happens, and when?
Dashboards
Visualising is key. Show KPIs and crucial alerts.
Predictions
Add machine learning to forecast what matters.
Planning
Automate decisions with intelligent algorithms.
Our data-driven solutions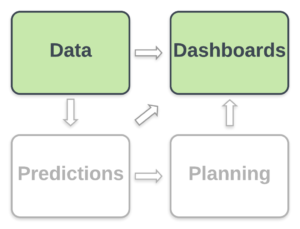 Collect data, aggregate it and visualise it on beautiful dashboards. Stay on top of things and keep all stakeholders in the loop.
We can help with the connection of sensor data to a custom API and finding the best visualisations. Very useful are also automated alerts (e.g. via SMS) once data hits a custom threshold.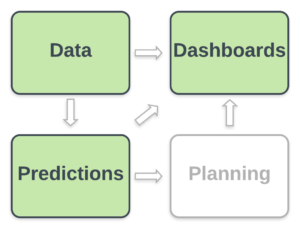 Think ahead with machine learning. Base your decisions on what might happen next.
We can build machine learning models to forecast your data and peripheral data like weather or market prices. The result will make your dashboards more valuable for decision makers. What might happen next, and how likely is it?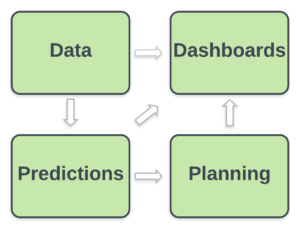 Automate your daily operations with intelligent algorithms and scheduling, which build on machine learning predictions. Integrate them into your existing processes via custom APIs.
We are experts (and we know more experts) in decision making. For instance, get a recommended schedule for your daily operation or a risk-based assessment of whether today is a good day to act.
From one hand
In everything we do for our clients, we build on rich and ongoing experience in computer science research and cloud engineering.