The steering challenge: How can an electric vehicle, with all its energy flexibility potential, be integrated into a home setting, or small business environment? To maximize own solar energy consumption, to buy low and sell high, to use green energy ― preferably, all of the above! We apply our open source FlexMeasures platform to the vehicletogrid (v2g) challenge in cooperation with PositiveDesign in Utrecht.
The uncertainty: Each of the concepts stated above seems straightforward but already requires machine learning, e.g. for forecasting. Combining these use cases to achieve an optimal outcome becomes quite complex. The FlexMeasures platform is tailored for these kinds of tasks and quickly and efficiently calculates optimal charge/dis-charge schedules. Price spreads have become quite high in the Dutch day-ahead market, which this system can take full advantage of.
We have collected more than a year of data (Q4 2022) and we see that less than once cent has been paid for each driven kilometer. Yearly savings of a couple of hundred EUR are observed (which confirms what other studies predict).
Also, this project has a now a dedicated website, and we are helping a few other enthusiasts to install it at home and onboard with FlexMeasures!
Our living lab in the spotlight on Dutch TV (aired March 25th 2022 on EenVandaag, a popular evening programme):
The dashboard of the V2G Liberty app which we co-developed for this purpose. It runs on-premise (and runs on HomeAssistant):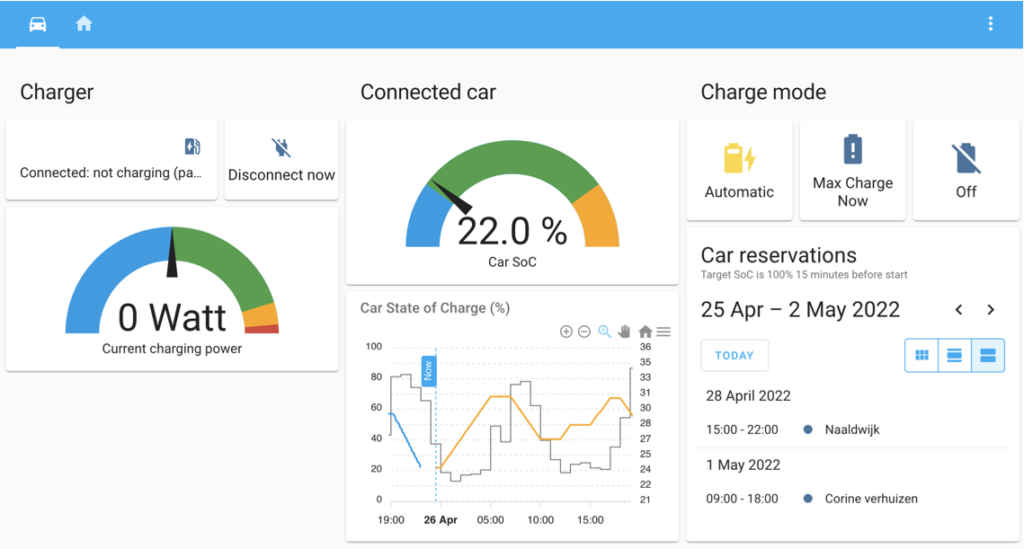 As FlexMeasures, the V2G Liberty software is also available open source: